10 Cricket Facts That Will Amaze You
Read this to learn about 10 amazing cricket facts that will astound you once you learn them.
Cricket is a gentleman's game played by the world's most skilled players. It requires both physical and mental abilities to play. In India, it is not only a game but also a religion.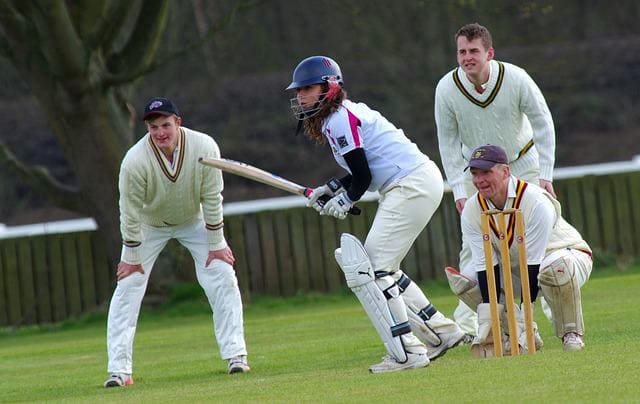 However, because we are in India, we must be aware of some of the most amazing facts and incidents in cricket history.
Here are some of the game's unknown facts.
We're sure most cricket fans are unaware of these.
Did you know? Only four players have ever played in all ten batting positions.
Only four players in the history of recorded cricket have played all ten batting positions for a team:
Lance Klusener
Abdur Razzaq
Shoaib Malik
Hashan Tillakaratne
Did you know? Shahid Afridi used Sachin Tendulkar's bat to hit the fastest ever ODI century.
Shahid Afridi was flown in to play for Pakistan from the West Indies to Nairobi in 1996. Sadly he was without a bat.
That's when Waqar Younis handed Sachin Tendulkar's bat to 'Young Afridi.' Then Afridi hit:
and scored a 37-ball century against Sri Lanka.
It was the fastest ODI century at the time.
The record was later broken by:
Corey Anderson (36 balls)
followed by AB de Villiers (31 balls).
Did you know? Chris Gayle is the only batsman to hit a six off the first ball of a Test match.
No cricketer has ever hit a six off the first ball of a Test match in the 137-year history of the game. Chris Gayle accomplished this feat against Bangladesh off debutant Sohag Gazi who made his debut in 2012.
Did you know? The most consecutive maiden overs is 21.
When a bowler completes six straight deliveries without allowing the opposition to score a run, that stretch is known as a maiden over. On this front, Bapu Nadkarni was able to secure himself a fantastic little record. scoring 21 straight first-over runs while representing India in 1964.
Did you know? Sunil Gavaskar was out off the first ball of a Test match thrice in his career.
The first batsman to 10,000 Test runs was Sunil Gavaskar, who finished his career with 34 Test centuries.
But did you know that on the first ball of a Test, he was out three times?
Those bowlers were:
Geoff Arnold (Edgbaston, 1974)
Malcolm Marshall (Kolkata, 1984)
Imran Khan (Jaipur, 1987).
Did you know? The length of the pitch is the only unchanged cricketing law.
The cricket rules are subject to change with the times. In reality, every rule has been subject to change since the sport was first established, except one. The designated length of a cricket pitch has not changed; the original choice of 22 yards still holds under the current set of rules.
Did you know? Cricket was introduced by the Olympics in 1896.
Cricket wasn't introduced until 1900, even though we can trace the beginnings of the Olympics back to 776 BC.
The cricket has only ever been played at the Olympics once, where Great Britain won the gold medal in 1900, despite being such a widely-played sport. However, there have been discussions about bringing cricket back to the Olympics in the future.
Did you know? The longest cricket match lasted 14 days.
Even at its best, a cricket match can last for quite some time, but one particular match took the cake. An England-South Africa match in 1939 lasted 14 full days, with the players presumably sleeping for an additional 14.
The length of a match varies depending on the format, with Twenty20 matches typically lasting much less time than other formats.
Did you know? Women's cricket was played as early as the 18th century.
Women have participated in cricket since at least the 18th century, even though men play the sport in far greater numbers. Even female-only tournaments were held in English towns like Surrey, Hampshire, and Sussex. The winning teams received prizes like barrels of ale and lace gloves.
Did you know? Wicket bails aren't always necessary.
Nearly every cricket match features bails, the horizontal pegs that sit astride the stumps. However, they are not required in all situations. For the sake of ensuring smooth play, the umpire may decide to remove the bails entirely or replace them with heavier ones when a strong wind threatens to blow them off.
Did you know? Cricket wickets originally only had two stumps.
Even though it's inconceivable now, a wicket used to consist of only three stumps.
Before 1775, two stumps were the standard. However, English cricketer Edward "Lumpy" Stevens bowled the ball between the two stumps three times without removing the bail, and the batsman was declared "not out." Shortly after, the third stump was revealed.
Did you know? A Brad Hogg and Sachin story.
Brad Hogg asked Sachin to sign a photograph of his dismissal after claiming his wicket. 'It will never happen again,' Sachin signed.
And it never happened.
These are some facts we listed above.